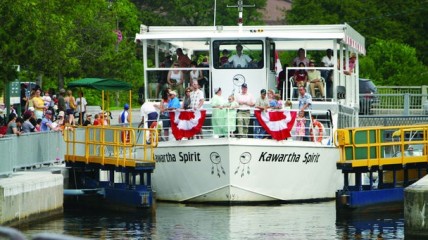 Kirkfield Lift Lock Cruise
September – Mid-October:
All aboard the "Kawartha Spirit" for a colourful and unique fall cruise!  Your enjoyable cruise starts at Trent Severn Lock 34 in the quaint village of Fenelon Falls.
The Autumn cruise will take you across Cameron Lake to Lock 35 in Rosedale into picturesque Balsam Lake, passing Grand Island.  You will then enter the tree-lined banks of the man-made channel, where you can reach out and touch the foliage. The cruise will continue to Mitchell Lake to the unique Kirkfield Lift Lock.
After experiencing the sensation of transferring from one level to another, you will begin your return to Fenelon Falls.
The cruise is approximately six hours.
A hot country style buffet is included in this popular fall colour cruise.
Please contact TRIPSETTER for price